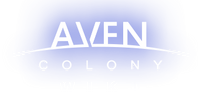 Welcome to the Official Aven Colony Wiki
Welcome to the Aven Colony Wiki!
The Colonial Governor's handbook to colonizing Aven Prime.
Please feel free to contribute by creating new articles or expanding on existing ones.
Spotlight: Aven Colony
Developed by Mothership Entertainment, Aven Colony is set in the distant future where extrasolar colonization is a reality. As part of the first expedition to Aven Prime, the first habitable planet to be settled by mankind, you are a colonial governor. Your mission? Weather the dangers, settle the final frontier, and create a bustling colonial settlement. Time to earn a living, governor.
The game is live on Steam!
[ Aven Colony homepage ] [ Steam ]
Wiki Community
We are currently maintaining 871 pages (172 articles)!
Recent changes | New pages | Missing pages
If there's anything missing on the wiki, use the box below to start a new article:
You can also create new pages using the search box. Just type a new title, click "Go", and near the top of the results page, there will be a link to create the new page.
See how you can help contribute to Aven Colony Wiki! Remember to maintain a standard for grammar and punctuation in your contributions, please.
Register an account to keep track of your contributions.